MISSOURI PAVILION – RENDEZVOUS IN SPACE
The Displayers, Inc. has created this exciting exhibit for the McDonnell Aircraft Company depicting man's first rendezvous in space using McDonnell's Gemini capsule.
The actual rendezvous is scheduled to take place during the 1964 Fair season. The exhibit will be housed in the State of Missouri Pavilion.
The Displayers, Inc. has also created the City of St. Louis and the Combined Utilities of Missouri exhibits and are the design consultants to the State of Missouri on the entire pavilion.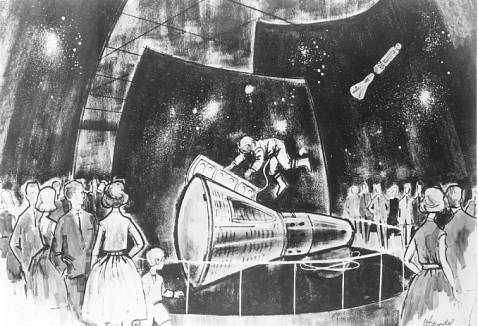 Source: Missouri Pavilion Publicity B&W
MAY 24, 1963 MISSOURI PAVILION  

Groundbreaking at the New York World's Voir 1964-1965 

COVER: 
The Missouri Pavilion will house exhibits of the State's culture, industry and tourism as well as a display of the 
latest space craft. A replica of Charles Lindbergh's "Spirit of St. Louis" will also be featured. Kivett and Myers 
of Kansas City, Missouri, and Mr. Daniel Schwartzman of New York City are the architects; 

the designers are 
The Displayers, Inc. of New York

.
MISSOURI
Missouri's glass-enclosed pavilion presents the theme, "First in Air … First in Space." Among its main exhibits are a replica of the Spirit of St. Louis, the plane in which Charles A.
Lindbergh made his historic New York-Paris flight in May 1927, and the two space capsules, Mercury and Gemini. There are also mementos of famous Missourians, a display sponsored by nine private electric utilities, and separate exhibits depicting the industrial developments and natural resources of the state, the city of St. Louis, and Kansas City. A snack bar features foods said to have originated at the time of the 1904 fair in St. Louis.
* Admission: free.
Highlights
"SPIRIT OF ST. LOUIS." An exact replica of the famous plane, made in 1955 for the movie, The Spirit of St. Louis, hangs from the ceiling of the pavilion.
SPACE CAPSULES. A replica of the Mercury capsule, Friendship 7, is on display outside the pavilion. On it is a plaque engraved with the autographs of all the astronauts. An actual-sized Gemini moon capsule is inside the pavilion. Both capsules were built by the McDonnel Aircraft Corporation, a St. Louis company.
FAMOUS FIGURES. Among those honored are such great Missourians as author
Mark Twain, poet Eugene Field and artists Thomas Hart Benton and George Caleb Bingham.
SNACKS AND SOUVENIRS. Both the snack bar and the pavilion's souvenir shops specialize in regional items (Missouri hams, corncob pipes). The snack bar also sells some all-American favorites said to have been introduced at the period of the St. Louis Fair of 1904: hot dogs, ice cream cones and iced tea.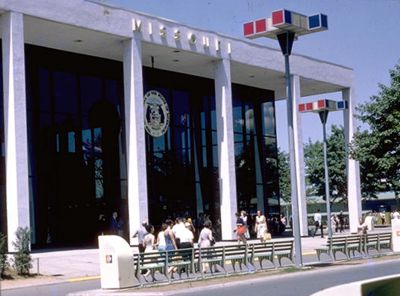 Source: Commercial Transparency by Photo Lab, Inc., Washington, DC presented courtesy Bill Cotter Collection