Jack Lescoulie tours the Coca-Cola pavilion at the New York World's Fair and receives a guided tour from Barry Howard, Vice President of the Displayers Corp, which created the pavilion.
They walk into a contemplative garden. Fountain seen with the Taj Mahal in the background. Howard notes they've added fragrance to make the setting as realistic as possible. They enter a Bavarian inn. Lescoulie mentions the scent of pine.
Howard says they can control the climate, as well as the sounds and smells. They enter a Cambodian rain forest which includes a recreation of the Ankhor Watt temple. Howard notes they had to get rid of a snake because it looked too real.
The sound of a bullfrog is heard. They step onto the deck of the S.S. Brazil with a view of the Bay of Copacabana. Engine noise is heard. View through window into dining room that's only four by six feet but appears much larger due to mirrors. (Link)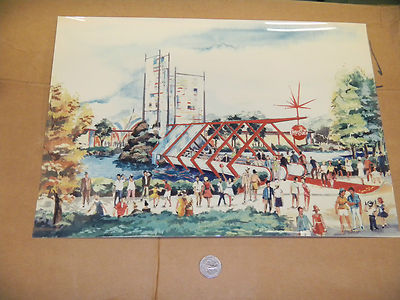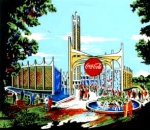 Join us at the Coca-Cola Pavilion for The Pause that Refreshes! Come along on a Global Holiday where you'll experience the sights, sounds and smells of five world locations where you can enjoy an ice cold Coke!
Pepsi Cola Pavilion presents Walt Disney's It's a Small World at the New York 1964 World's Fair.
Roland "Rolly" Crump with model and sketch for his Tower of the Four Winds for the Pepsi-Cola Pavilion, "It's a Small World" at the 1964-65 New York World's Fair.