| | |
| --- | --- |
| | illustrations: Peter Bono |
Business travel represents an unavoidable expense when it comes to trade shows and events. After all, there's no point in erecting an exhibit or engineering a live event if you can't afford to send anyone to staff it. So keep that necessary evil from eating away at your coffers with these 10 tips to help you maximize your travel budget without maxing out your corporate credit card.

xhibit marketers are used to managing expenses. Whether they're bidding out a new build or buying branded tchotchkes in bulk, you can often find them negotiating,
renegotiating, and getting a few additional estimates before signing on the dotted line. But after months of careful cost-benefit analysis, a few wrong turns can send their budgets spiraling out of control, and at the worst possible time. Because after the booth has been dismantled and the drayage bill has been paid, staffers' expense reports start pouring in. And if exhibit managers haven't done their due diligence, all they can do is pray to the per-diem gods that everything comes in under budget.
According to a variety of reports issued in late 2012, corporate-travel purse strings are expected to loosen this year. Regardless, just because you have more money allocated for staff travel does not mean you should return to the ways of prerecession excess. Plus, EXHIBITOR's 2013 Economic Outlook Report indicates 28 percent of exhibit and event professionals still anticipate trimming travel expenses compared to 2012 spending levels. And since those cuts are, presumably, coming on the heels of prior cutbacks, axing a staffer is an unlikely option to avoid travel-budget bankruptcy without macerating your exhibit-marketing effectiveness in the process.
Thankfully, with a bit of frugality, some inventive alternatives, and a few nifty tactics, you can prevent staffing and travel costs from consuming more than their fair share of your program's coffers. So here are 10 ways to save, offered up by exhibit and event professionals, seasoned road warriors, and travel pros. May their budgetary brilliance help you maximize your travel budget without maxing out your corporate credit card in the process.
1. Staff Locally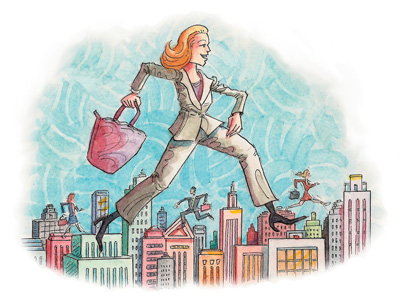 The best, and most obvious, way to cut travel expenses is to reduce the need for travel in the first place. One approach to minimizing that requirement is to select staffers who live in close proximity to the show's host venue when possible. Kimberly Kee, founder of event company Kinetic Events, suggests that if your company has offices across the United States, you should consider using booth staff from a local or regional office rather than flying employees across the country to attend the show. If they live within driving distance of the venue, you save on airfare, hotel rooms, and checked-baggage fees (not to mention the soft costs of increased travel time associated with air travel).
Even if people have to fly in from nearby offices and stay overnight in the show city, shorter and perhaps cheaper flights could equal fewer hotel nights and reduced per-diem expenses. And if your company doesn't have offices in close proximity to the show site, you might be able to tap distributors or partners who live near the host city to staff your booth. Replacing just one or two out-of-state staffers with local people will likely save hundreds of dollars that you can put to better use elsewhere.
2. Hire Trained Professionals
Another related approach to reducing spending by trimming travel needs is to outsource your exhibit staff. You can almost never completely outsource your staff if you want to remain effective. However, E. Jane Lorimer, managing director of Lorimer Consulting Group, suggests that using local, temporary, experienced staffers to perform tasks such as greeting attendees and manning giveaway-fulfillment counters can help reduce staff travel costs while maintaining effectiveness.
According to independent exhibit-management consultant Candy Adams, CTSM, CME, CEM, CMP, CMM, it costs roughly $2,000 per staffer to cover the cost of air travel, ground transportation, hotel, food, Internet, and miscellaneous tips for a three-day U.S. show (assuming a day's worth of travel to the show city and another back home). And while temporary staffers aren't free, their services typically cost much less than the travel and per-diem costs involved with sending an employee to the show.
Plus, temporary staffers often outperform company employees in these "meet-and-greet" roles, as they're more accustomed to the trade show environment. Furthermore, salaried employees may not feel incentivized to step outside the comfort zone of their corporate cubes the way a professional staffer or spokesperson might. A large portion of many temporary staffers' income is derived from repeat business, and if they underperform, they're unlikely to remain gainfully employed.
There are countless staffing agencies located around the country, including Exhibitors Connection Inc., J Williams Agency Inc., CMT Agency Inc., Victory Marketing Agency, and many more. While some agencies specialize in a particular market, geographical location, or skill set, others can provide a range of local talent in a variety of popular show and event cities. So shop around and find the agency best suited to your needs.
3. Don't Overstaff
If staffing locally and/or hiring professional talent are not viable options, you might still be able to cut costs by reducing the number of staffers you send to the show. The trick is to make sure you have all your bases covered and aren't accidentally severing an exhibiting artery by understaffing your space. After all, fewer staffers can mean fewer leads. Consider this: If you have six staffers working six-hour shifts, that's 36 hours of badge-scanning potential. Assuming it takes an average of 10 minutes to adequately qualify an attendee, the maximum number of qualified leads you could possibly accumulate is 216. If you eliminate just one staffer, that number falls to 180, and if you chop two, your max potential plummets to 144. But if your company's target audience consists of a fraction of the show's total attendance, or your main objective is meeting with a small group of VIP prospects, four staffers and 144 leads might be adequate.
And simply adding staffers does not necessarily generate an increase in leads, unless those staffers are actively involved in driving traffic to your booth that wouldn't otherwise pass by. Just because you have three more employees in your exhibit doesn't mean any additional people are going to step inside your space. The trick is to find that sweet spot where your entire team of staffers is actively collecting leads, and few if any visitors leave without a face-to-face engagement.
Generally speaking, it's more common for exhibitors to overstaff their space. That results in groups of people in branded attire standing around twiddling their thumbs or fidgeting with their smartphones. And for every staffer playing "Angry Birds," you're coughing up hundreds or thousands of bucks. To avoid overstaffing, Adams suggests the following rule of thumb: Plan for one "floating" staffer (in addition to staffers assigned to information counters or fixed demos) for every 50 square feet of open exhibit space. Simply take your total footprint and deduct the square footage occupied by exhibit elements, product displays, storage areas, etc. Then divide the remaining square footage by 50, and that's the number of floating booth staffers you'll need to have on duty throughout the show.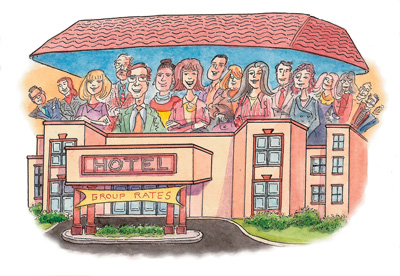 4. Consider Alternative Lodging
The show's official hotel shouldn't always be your go-to option. Investigate alternatives such as boutique hotels, bed and breakfasts, vacation-home rentals, corporate apartments/condos, etc. In doing so, consider dining availability and pricing along with travel expenses to and from such alternatives to make an apples-to-apples comparison against traditional lodging. It's pointless to book a slightly cheaper hotel if you end up paying more in the long run due to taxi fees to and from the venue each day, especially considering that show management often provides complimentary shuttles to and from the venue from official host hotels.
Be on the lookout for hotel specials as well, since booking your rooms directly through the hotel, rather than going through the show's room block, can sometimes get you better rates or negotiated discounts. It's not unusual for hotels to offer lower rates if you are booking a large block of rooms, reserving meeting spaces inside the hotel, and/or ordering food and beverage services for staffers and guests during your stay. If you can't get a better rate, see if the hotel is willing to throw in any extras such as free in-room wireless Internet access or a even a food and beverage credit.
By shopping around a bit, you might even find hotels at which some serious perks are already included in the nightly rate. Complimentary breakfast, airport shuttle service, and free access to the fitness and business centers can eliminate a bevy of budgetary blips and add up to a sizeable savings in the end.
It's important to note that show organizers often incur a nasty penalty known as attrition, where they are required to pay a portion of any hotel rooms they reserved as part of their official room block that go unused. So if after comparing costs you find it's a wash (or even slightly more) to book rooms at the official host hotel, it might be worth doing so in an effort to stay in show management's good graces. However, if booking outside the room block is essential to staying under budget for the show, or if you're able to redirect any savings into additional trade show sponsorships, a larger exhibit space, or private meeting rooms at the show venue, booking outside the block is probably a justified option.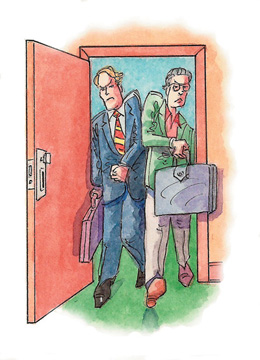 5. Share Rooms
Granted, not everyone wants to share a room, and corporate policy might forbid room-sharing arrangements among co-workers. But considering that the option has the potential to cut your hotel costs in half, it's worth suggesting to your staffers. Some might acquiesce without pushing back, especially if the alternative is not going to the show at all. But don't be surprised if the idea is met with strong opposition.
In that case, you can give staffers the option of sharing a room. You'll increase the percentage of staffers that take you up on the offer by incentivizing it. For example, you could offer staffers who volunteer to share a room with a co-worker a room upgrade, complimentary spa treatment at the hotel, or even cold hard cash. If staffers are staying several nights in a row, even a relatively expensive incentive will probably cost you less than the expense of booking a second (or third) hotel room.
In the event that you're unable to offer high-value incentives, you might be able to negotiate half a day of vacation or a slightly increased travel per diem for individuals open to bunking with another booth staffer.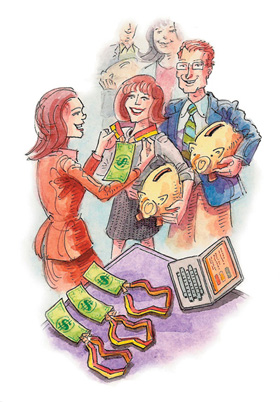 6. Reward Frugality
Just as room sharing will help you decrease costs, you can also trim your travel expenses by incentivizing staffers to order less expensive meals. It's common for companies to hold employees to strict travel per diems for food and beverages while attending trade shows and events. But in most circumstances, those per diems are essentially bank accounts of use-it-or-lose-it funds. If a staffer has $75 for breakfast, lunch, and dinner that day, but only spends $55, the remaining $20 goes back into your program's pockets. As such, there's no reason for staffers to be more fiscally responsible than their per diems dictate. So why would they order the house wine and a hamburger when their per diem affords them a top-shelf margarita and filet mignon?
You can quickly and effectively reduce spending on food and beverage by offering a percentage rebate to employees who stay under their allotted per diem. For example, reward attendees with 50 percent of whatever they don't spend at the show. So if they're allotted $300 for a five-day show, but only spent $200, halve the difference and give them $50 cash to reward their thriftiness. Your exhibit program still nets a cool $50 worth of savings, and the rebate program encourages staffers to keep an eye on their expenses while on the road.
The savings might not seem like much at first glance, but consider this: If you've got 30 staffers traveling to a show for a week, and each of them saves just $25 a day. Your program just pocketed $2,625 for one trade show. Multiply that by four shows per year, and you've soon got a slush fund totaling more than $10,000.
7. Beat Back Baggage Fees
"A portable luggage scale is quickly becoming my new favorite travel essential," says Steve Deckel, design director at Deckel & Moneypenny Exhibits in Louisville, KY. "Most airlines assess hefty fees for overweight and oversized bags, which means all the extra swag and leftover literature you're carting back from the show could cost you." Portable luggage scales are easy to use, and they fit in the side pocket of most suitcases. Before you head to the airport, just hook one onto your suitcase and lift the bag via the scale's handle. A little preflight knowledge will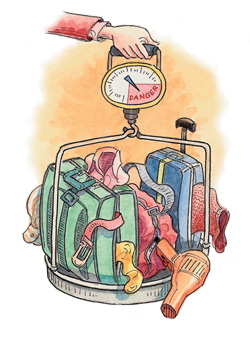 help you and your staffers eliminate overweight-baggage fees as you can trash unnecessary items or repack your luggage accordingly.
Luggage scales can easily pay for themselves several times over when staffers are traveling together and are able to repack and accommodate weight restrictions. While some airlines will let passengers check slightly overweight bags without charging a fee (so long as they're not more than a few pounds over the allowable limit), staffers can sidestep the surcharge altogether by stowing an extra pair of shoes, for example, in someone else's carry-on bag if they have a little leftover space.
Another option â?" if you know in advance that staffers will be carting bulky or heavy items such as printed handouts for a conference session they're presenting, copies of catalogs, etc. â?" is to consider packing and shipping those materials with your exhibit, as it's likely going to be far less expensive in the long run.
If you routinely fly the same airline, your loyalty might earn you some freebies that will help to further cut down on baggage-related bills. Delta Airlines, for instance, allows one free checked bag for each traveler who has earned Medallion status via the company's frequent-flyer program. And if you carry a Delta American Express card, you're entitled to another free bag (along with one free bag for everyone on your reservation, up to nine travelers). When combined, a single staffer can save $120 per round-trip flight on baggage fees alone.
Finally, consider implementing and enforcing restrictions on the quantity and weight of bags staffers are allowed to expense. For instance, limiting them to one checked bag that meets the airline's weight restrictions, rather than allowing two bags per traveler, could amount to $70 in savings per staffer. Just be sure the restrictions are realistic. If your employees are expected to attend a 14-day overseas show with a day of travel on the front and back end of the trip, asking them to stick to a single checked bag isn't advisable.
8. Try to Avoid Taxis
Before you instruct staffers to hop in the back seat of a cab, do a little pre-show research. The most expensive trips are likely to be the ones to and from the airport, assuming your hotel doesn't offer complimentary shuttle service. So call the hotel and inquire about how much you can expect to pay per fare, then compare that to alternative options. Also, if your hotel doesn't have its own airport shuttle, it may have a negotiated rate with a local shuttle firm. Sometimes if you prepay for a number of vouchers to distribute to your staff, you can effectively lop off a large line-item expense in one blow.
And keep in mind that while convenient, cabs aren't the only way to get from point A to point B. In many cities, shared shuttles are available for a fraction of the cost you'd pay in cab fare. In Los Angeles, for example, it costs approximately $50 to get from the airport to the Los Angeles Convention Center, not including tip. But if you book a shared shuttle service (via www.lacclink.com), you'll only pay $15 per person.
Along those lines, it can pay big dividends to consider mass-transit options and even car services. You might be surprised how economical a limo can be when you compare it to the three or more cab fares you'll pay to get all nine of your booth staffers to and from the show site. Another option is, of course, rental cars. Renting a car is a particularly cost-effective solution if you're planning to make several trips outside of the standard travel trifecta of the airport, hotel, and convention center. For instance, if you'll be making trips to purchase supplies, visit a local graphics shop to print signage, and dine at off-site eateries, renting might make a lot of monetary sense.
But before you rent a vehicle, Adams advises that you do your homework. Check into parking rates at your hotel and the show venue, and make sure that the rate quoted by the rental company includes all of the pesky fees and taxes that can add up to 50 percent on top of the initial price. Also be aware of costly add-ons, from extra insurance options and roadside assistance to rented GPS systems, which can quickly bust your budget. And avoid prepaying for a gas fill up on return unless you know you'll use the entire tank during the rental period, as some renters charge up to $10 per gallon multiplied by the number of gallons the tank holds, not the number of gallons used.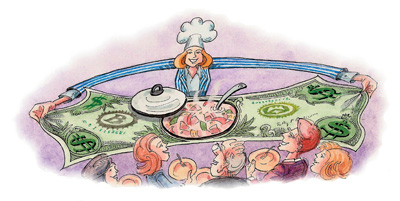 9. Plan Your Menu
If your staff is known for racking up hefty food bills, find a restaurant near the hotel and arrange a team dinner â?" or several dinners â?" with a cost-conscious, preselected menu. By choosing the menu for your staff, you can opt out of high-priced options such as prime rib and lobster, inserting lower-cost items such as pasta or chicken dishes instead. It's even possible that the chosen restaurant will offer you a discount of some sort for bringing in a large group. Jason Raddenbach, former trade show coordinator for Warner Electric LLC, employed this strategy at some of his shows, garnering a 24-percent decline in the cost of staff meals.
Another option is to set a limit to the number of alcoholic beverages employees can consume on the corporate dime. High-end specialty cocktails can easily exceed $12 apiece, meaning a single round of drinks for a table of 20 can quickly add $300 to your bill, once you factor in tax and tip. If each booth staffer has three drinks, you're doling out nearly a grand worth of budget-busting beverages.
When it comes to exhibit-hall hours, consider catering boxed lunches to the booth. You'll want to carefully compare costs here, as catering can be a significant expense. But depending on the show site and the available menu options, you might save a few bucks previously blown on overpriced meals, snacks, and drinks sold at and around the convention center. What's more, serving lunch in the booth (assuming you have a private or semiprivate area where staffers can dine without being in full view of attendees) means they'll be less apt to take extended lunch breaks since there's no need to peruse the venue in search of vittles.
But staffers aren't the only ones who need to eat while on the road. If you're planning to invite clients or prospects out for a meal to talk shop during a show, keep in mind that lunch is generally less expensive than dinner, and breakfast is typically the least expensive meal of the day.
10. Send Staffers Home
At most shows, traffic lulls on the last day. If that's the case at the shows your company attends, consider sending some staffers home a day early. If you're sending staffers to an annual show you've exhibited at for years, you probably have a good idea whether or not everyone really needs to stay until the bitter end of booth hours on the final day. But before you make any assumptions about shows you're exhibiting at for the first time, consult show management reps. They should be able to give you a good idea of how aisle traffic ebbs and flows each day, allowing you to make a more educated guess about your staffing needs.
If it's not possible to send anyone home early, or if staffers dismantle the booth themselves and therefore need to stay until the show closes, Judy Volker, marketing director for Iatric Systems Inc., suggests using any available storage space in your exhibit to house empty containers after installation. "That way staffers can pull out the containers and pack up the booth as soon as the show is over, rather than waiting for empty crates to be returned," Volker says. "Then they can likely catch a flight out that night instead of paying for another night at the hotel and flying out the following morning."
The goal here is not to eliminate every indulgence and force staffers to order off the dollar menu at McDonald's in order to avoid overspending on a work trip. Business travel is more arduous and far less glamorous than most people realize. Add to that the fact that business travel takes staffers away from their families, and it's understandable why affording them as many creature comforts as possible is in the best interest of staff morale and effectiveness. But traveling to a trade show need not feel like vacationing at an all-inclusive resort, and staffers should be reminded that business trips and luxury vacations are two different animals. So take a good, hard look at your staff-travel costs, and you're likely to find plenty of potential savings that will allow for a comfortable, albeit cost-effective, trip to your next show.